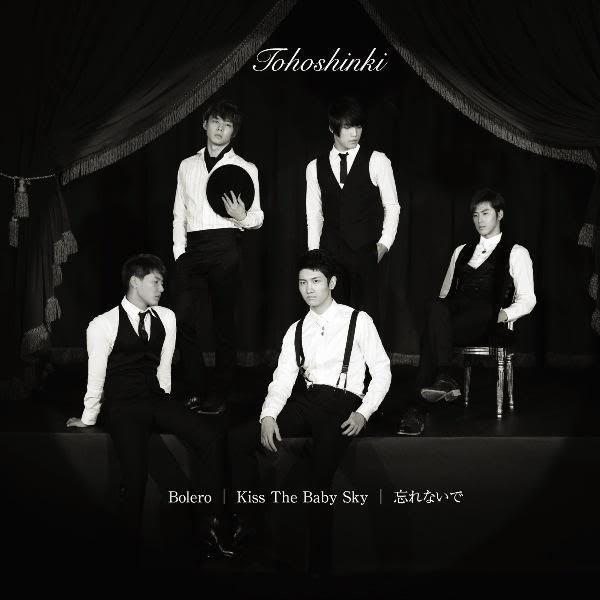 Title: The 25thSingle – Bolero
Artist: Tohoshinki
Conductor: AVEX Trax
Release Date: 2009.01.20
Language: Japanese
Total Size: 77.54 MB
Tracklist:
.:Download:.
1. Bolero
2. Kiss The Baby Sky
3. Wasurenaide
4. Doushite Kimi Wo Suki Ni Natte Shimattan Darou –Royal Mirrorball remix-
5. Bolero (less vocal)
6. Kiss The Baby Sky (less vocal)
7. Wasurenaide (less vocal)
My Rating: 8/10

Bolero – it grab a lot of my time to listen it, the duration is..damn kill, it's 5:58! Near 6 minutes. Hey hey hey.., as long as the song was really good, I think I can't bored with it. The boys give such a brand new song. The beat is so ballerina theme, very different like they always sing. The thing that still remained from the previous single is their vocal ability that have never changed, even they improve it better I can cay.
Kiss The Baby Sky – It's not like I expected. They don't use an electronic beat again. Though it is a different style, the intro fail me first till I hear the they sing. First Yoochun rapped, he makes it up with his flawless English and the other boys turned harmonized it. Jaejoong would sing first and entered by the others. The chorus is not a big part that I think, not so special. But their J-fan would like this I hope.
Wasurenaide – our prince Jaejoong compossed this. A nice ballad and very emotional. Just like how I hear the ballad song, it drew a farewell motion in my mind. OMG.. why ballad always going on the farewell in my mind? My brain please stop it! XD.
credits: cam*Music Soul*